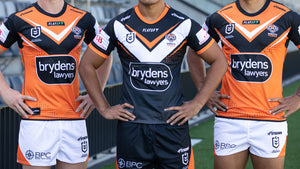 ICONIC. PROUDLY AUSTRALIAN. UNAPOLOGETICALLY TOUGH.
STEEDEN has been providing sport loving Aussies with on and off-field apparel since 1958.
65 years STEEDEN have played in the dirt, the heat, the cold. Our products have withstood being pushed, pulled, passed and kicked by elite athletes and local clubbies alike.
STEEDEN apparel is tough, comfortable and reliable.
It's high performance gear designed to last.
We are proud to partner the Wests Tigers as their Official Apparel Supplier.
Click here to view our 2023 Stock Teamwear Catalogue.
Click here to view our 2024 On-Field Apparel offer.
Steeden Teamwear Enquiries 2024